World Heritage
On 2 November 1984, Palau Güell was declared a UNESCO World Heritage Site. This was formal recognition of its outstanding universal value and its uniqueness as a masterpiece of human creativity.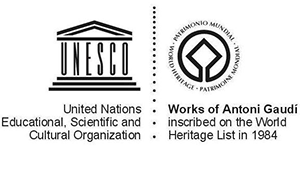 A number of other works by Gaudí were included on the UNESCO World Heritage List at the same time as Palau Güell: Park Güell and Casa Milà (1984), and later Casa Batlló, the Colònia Güell crypt, the Nativity facade and crypt of the Sagrada Família and Casa Vicens (2005).
Inclusion on the list, under the heading 'Works of Antoni Gaudí', was based on the following three criteria:
Criterion (i): The work of Antoni Gaudí represents an exceptional and outstanding creative contribution to the development of architecture and building technology in the late 19th and early 20th centuries.
Criterion (ii): Gaudí's work exhibits an important interchange of values closely associated with the cultural and artistic currents of his time, as represented in the Modernisme of Catalonia. It anticipated and influenced many of the forms and techniques that were relevant to the development of modern construction in the 20th century.
Criterion (iv): Gaudí's work represents a series of outstanding examples of the building typology in the architecture of the early 20th century, residential as well as public, to the development of which he made a significant and creative contribution.